I am the mother of two fine sons and a pretty awesome husband.
We raised them to be good men. They are kind, loving, secure and confident, but not arrogant. They treat everyone with respect until they are given a reason not to! They are both men of integrity and they make their parents proud every day.
I have to admit that I am a spoiled wife and mother. The men in my family love to cook and I love to eat. Win! Win! I don't mind the clean up after either. This is my youngest son's creation for our family's restaurant…King Cake Cheesecake! It is our homemade cheesecake with a cinnamon roll crust drizzled in a glaze icing and dusted with colored sugar. Oh my YUM!
One of the things that I admire about all three of these crazy Bellino's is their adventurous spirit. This is their new venture…learning to fly!
They inspire me to come out of my shell and experience new things, but my hair is turning gray FAST! 😅
Today's post is part of the Southern Girls February 2019 Challenge "Girl Power".
Oddball Art is one of our sponsors for this challenge and I found the perfect image for my project. I chose the Queen for the Day Image No. 326, the foul-tempered monarch who is quick to give death sentences at the slightest offense and screeches "Off with their heads!" She is the polar opposite of me, however, I channel her now and then to keep my thrill seekers in line!
I resized the digital images in Photoshop Elements, printed on Crafter's Companion Spectrum Noir Specialty paper and trimmed using my Silhouette Cameo. The images were colored with a combination of Spectrum Noir alcohol markers, Prismacolor pencils and Dylusions paint pens. I added a little sparkle with Yellow and Diamond colored Stickles. The background was created using Candied Apple Distress Oxide ink layered with the Club Scrap Cobblestone stencil and Ground Espresso Distress Oxide ink applied with a sponge dauber.
Click HERE to check out what the rest of the design team has created and link up your project for a chance to win a prize from one of our sponsors, Krafter's Kart and Oddball Art.
I'll look for you in the gallery!
SUPPLIES LIST:
Below you can find a list with all the products used today. Links to multiple online shops are available. Just click the static image below to be redirected to the LinkDeli product list. When the bookmarklet opens, click your favorite store link below each item. Compensated affiliate links may be used – that means if you make a purchase using my links, I receive a small commission at no extra cost to you. Thank you for your support of my work on this blog!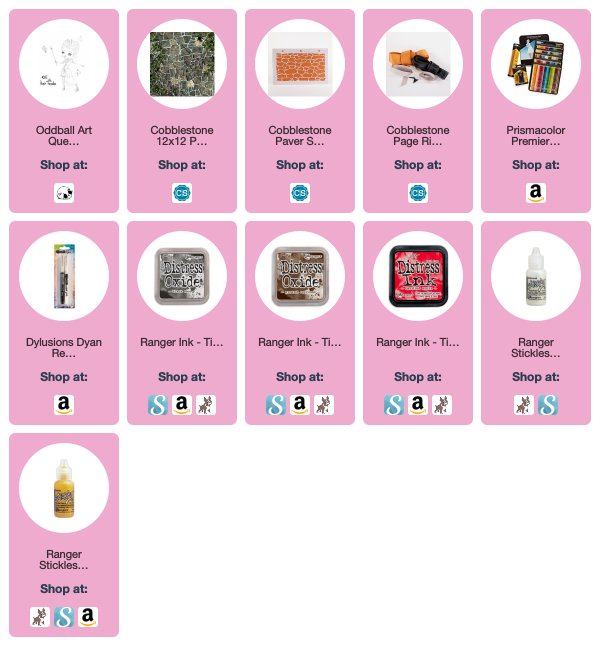 https://linkdeli.com/widget.js?1549439153802